NEW / EVENT :
6.08 PortoCubachata @ Plein Sud Chaumont Gistoux
11.08
Latino party @ cactus club
8.09
Latino party @ cactus club
12.09 – 28.9 Nouveaux cours salsa/bachata ( new classes sala/bachata en Anglais )
30.9 Noche Latina 10 Years

@ cactus club
13.10

Latino party @ cactus club
28.10 Noche Latina Dias de los Muertos

@ cactus club
10.11

Latino party @ cactus club
8.12

Latino party @ cactus club
30.12 Noche Latina White Edition

@ cactus club
9.01 – 1.02 Nouveaux cours salsa/bachata ( new classes sala/bachata en Anglais )
12.01

Latino party @ cactus club
9.02

Latino party @ cactus club
8.03

Latino party @ cactus club
30.03 Noche Latina Fluo Edition

@ cactus club
12.04

Latino party @ cactus club
10.05

Latino party Laurent's Birthday @ cactus club
14.06

Latino party @ cactus club
29.06 Noche Latina Tropical Edition

@ cactus club
Salsa & Bachata Classes in Brussels
Fuegodance is an esteemed Dance School known for its Salsa / Bachata  courses as well as for its events and collaboration with other dance organisations. 
We ensure high quality, the sharing of knowledge and emphasise the improvement in our dance pupils.
Laurent, with a degree in pedagogy, teaches the mastering of salsa/bachata in an evolving fashion while maintaining a social and fun atmosphere…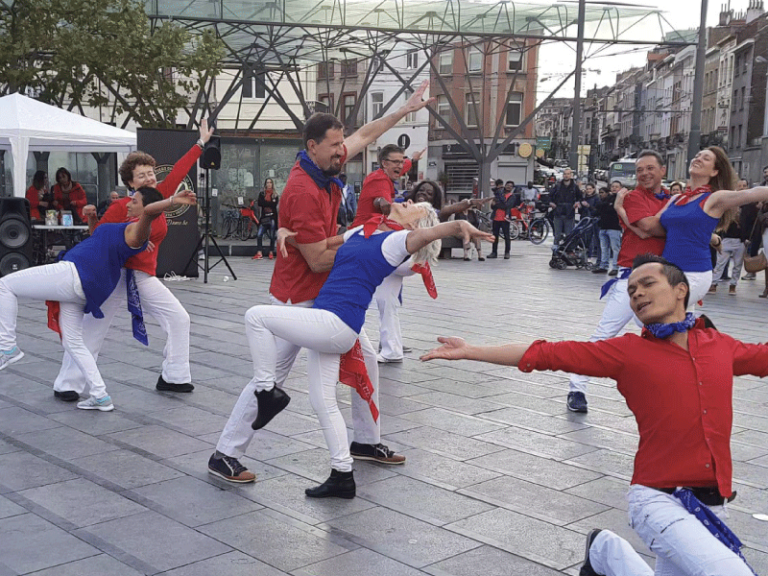 Whether you are beginner, intermediate or advanced.
We have a recognized pedagogy & an effective methodology to make you evolve while having fun.
Teacher FR / ENG
Salsa: Rueda, Suelta, Body Move, Estilo, Nudos, Rumba …
Bachata Fusion: Bachatango, Moderna, Sensuelle …
T-Shirt Fuego Dance
Discover the Fuego Dance T-shirt now! It exists in different colors
White logo blue or turquoise OR Black / Gold (limited)
Bachata:
Bachata is a dance rhythm which originated in the Dominican Republic.
How it is danced?
The movement is a relatively simple series of steps which produces a movement back and forth, or side to side. A representative diagram would be as follows: with the left foot, take a step to the left, then bring the right foot next to the left foot two times in a row, comprising the first four beats.  Then do the same to the right, starting with the right foot, for the return, making the second four beats.  
On the fourth and the eighth beat respectively, make a toe or heel point or a syncopation with the right foot and the left foot.  The character of the dance is a result of the sensual movement of the body, and the hips in particular, which is similar to some African dances.
Bachata is one of the easiest dances to learn, much simpler than salsa or rock, and is also one of the most sensual dances.
 Bachata has several styles:
modern bachata: this is the simplest bachata, made up of figures or passes, it is mainly danced in open or semi open position.
Dominican bachata or bachata dominicana: this is more complicated than modern bachata and is danced fast with accompanying footwork.  It is danced by very good bachata dancers, because it requires dancing in rhythm with half-beats and weight transfer at the hip.  Furthermore, it requires very firm guidance from the leader. It is often danced in the open position.
sensual bachata: this style of bachata has been very popular since 2005-2010, with international teacher-dancers like Korke and Judith or Daniel and Désirée.  It is danced to songs that have a slow and sensual rhythm, has a lot of waves and is danced with all parts of the body.  It requires a close synergy between the 2 partners and is usually danced in the closed position.
other variations: traditional bachata, which works the hips and the displacement of the weight of the body, and needs a strong lead.  There is no hip movement on the 4th and 8th beat in this dance.  It constitutes the "original bachata".
 A bachata song can have several styles and you should adapt your dance to the style of the bachata song.
The rueda de bachata is a way of dancing bachata by several couples at the same time performing the same figures announced by one person, in the manner of the rueda of casino.
 SALSA:
 Salsa is both a musical genre and a dance with Cuban roots
Salsa is an improvised dance that respects basic steps, and is generally danced in pairs, where the leader guides the partner but it can also be practiced alone, or with others: in line (comparsa, salsa suelta),  by several couples (rueda de casino), or even a leader and two partners (and more rarely two leaders and a partner).
One of the difficulties of dancing salsa comes from the complexity of the music: the first beat is not always marked in the same way.  To dance in harmony with the music, you have to be able to recognize the different musical beats.
How to dance it?
Salsa is danced in 8 musical beats with 6 danced beats and 2 pause times.  The steps are counted as follows: "1,2,3, (), 5,6,7, ()".  Times 4 and 8 are not pronounced because they are considered as a break time, (although advanced salsa dancers can perform a tap or syncopation).
The steps of the leader and the follower are mirror images: when the leader takes the steps for the first four beats, the follower takes four steps which are identical to the last four steps of the leader, thus in reverse symmetry.  So when the leader moves their left foot, the follower moves their right foot and vice versa, as occurs in many pair dances.
The Cuban style comes from the casino dance of the 1950s, as practiced in the choreographies of Tropicana, a famous club in Havana, and has its roots in the Cuban sound: it is very African in its origins and danced close to the ground (like bachata), with accompanying arm gesturing. You can dance it in crowded places – it involves clean passes and there is no (little) footwork.  The couple moves essentially by in successive circular movements.  Salsa is above all a street dance, and therefore popular and social.  It is normally danced on beat "1".
FUEGODANCE@OUTLOOK.COM
+32 (0) 498 30 13 31
IBAN : BE51 0018 1085 0762